Field Watches may be one of the most ambiguous segments of the watch world, often with blurred lines between what constitutes a field watch and what doesn't. If you were to create a Venn diagram of all the watch categories, field watches would be in the center with the most in common with all watch types. Sometimes, they have as much water resistance as a pilots watch (i.e. not a lot), and other times as much as ISO certified dive watches. On the flip side, they might have as much lume as a diver, but others, as luminescent as a gold, two-handed dress watch. At the root of all these specifications will be a certain "look", one of ruggedness.
The field watch origin story starts with the trench watch used in World War I. Simply, it was a pocket watch fitted with lugs and a strap so you could wear it on the wrist. The evolution through all those years has allowed this iconic timepiece style to end up wearing many different hats, but if you look at what the field watch originally achieved, it was two things: legibility and toughness (hopefully).
With that, it's the applications and origins of these watches that will never really put them in haute horology, in my opinion, but that makes it better for those of us interested in them. Pair that with the lack of complication (usually just time, date, and minute/hour markers), and you'll find that current modern takes on field watches are always generally affordable and are great for everyday wear.
This list is ever-growing as new models are released and retied, so we'll be keeping this updated as often as possible. That said, let us know in the comments if there are any other field watches you'd like for us to consider adding here.
Timex Expedition Scout
| | |
| --- | --- |
| Case Size: | 40mm x 49mm x 11mm |
| Movement: | Quartz Movement |
| Battery Life: | 2 Years |
| Crystal | Mineral Crystal |
| Price Range: | $30 – $43 |
One of the coolest things about the Timex Expedition Scout is that for one day a month, the inner 24 hour ring is complete when the date changes to the 15th. This is because the tie-in with the color matched date wheel and font is so good that it will disappear in front of your eyes. In fact, it is almost as cool as the price tag of $43 from the Timex website.
Sure, the case is brass which is seen with many very inexpensive watches, but many of the models are bead-blasted or brushed and coated in a DLC or PVD black or dark gray. A pop of color on the seconds hand by day, and Timex's INDIGLO by night keeps this watch playful and fully legible in any outdoor scenario.
Timex Expedition Camper
| | |
| --- | --- |
| Case Size: | 39mm x 46.5mm x 9.5mm |
| Movement: | Quartz Movement |
| Battery Life: | 2 Years |
| Crystal | Acrylic Crystal |
| Price Range: | $50 |
Being one of the few non-metal watches on the list, the Timex Expedition Camper is a nice alternative to a G-Shock if you want something a little more traditional. This 3-hander, resin-cased watch comes in at 39mm and only 9.5mm thick which is to be expected for a quartz watch.
At 50 meters of water resistance, you shouldn't quite submerge this watch, but if there is deep water in your campsite you have other things to worry about. Luckily, if this watch did take a plunge, it might not sink too far with the resin case being so lightweight – which just adds to the ability of this watch being an everyday wearer.
Timex North Field
| | |
| --- | --- |
| Case Size: | 38mm x 46mm x 8.5mm |
| Movement: | Seagull TY6DSK-1 Hand Wind Movement |
| Power Reserve: | 34 Hours |
| Crystal | Sapphire Crystal |
| Price Range: | $160 – $229 |
If you want a Timex but feel like most of their offerings don't speak to you because they are quartz, the North Field may be great for you. It's a three-hander, mechanical, no-date field watch with an eco-friendly leather strap. The sapphire crystal beats out the Hardlex mineral crystal that Seiko uses at this price point, and the case is thinner than most of the Seiko timepieces too.
A mechanical watch at times feels like a Tamagotchi pet or Furby that you have to keep fed to return you any bit of joy, but that creates a relationship (love or hate) between you and the watch. An automatic watch may be the more practical choice for some people (although, you usually have to wind them anyway to keep ample amplitude), but if you don't mind the daily ritual (I sure don't), pick up this North Field and enjoy.
Citizen Garrison Field Watch (BM8180-03E)
| | |
| --- | --- |
| Case Size: | 37mm x 45mm x 9mm |
| Movement: | E100 Eco-Drive Solar Quartz Movement |
| Solar Power Reserve: | 6 Months |
| Crystal | Mineral Crystal |
| Price Range: | $250 |
A solar powered watch may be the most appropriate field watch due to the nature of what you are trying to achieve. You'll need something reliable, but it must be reliable where it counts – outdoors. Batteries have the tendency to run out of juice in the worst moments, and a decent knock can do loads of damage to a delicate mechanical watch. For these reasons, you should look at the Citizen Garrison.
Citizen's solar powered technology Eco-Drive has been around since 1995 and is the most well known out of any watch brand. Its light-capturing cells are made nearly invisible behind the dial which has helped Citizen integrate this into a wide range of models. What you can see on the Garrison is bold Arabic numerals, a day-date complication, a rugged textile strap, and (my favorite touch) knurling on the crown ensuring that operation is easy under any circumstance.
Seiko 5 Midfield 36
| | |
| --- | --- |
| Case Size: | 36mm x 44.4mm x 12.5mm |
| Movement: | 4R36 Automatic Movement |
| Power Reserve: | 41 Hours |
| Crystal | Hardlex Crystal |
| Price Range: | $295 |
The Seiko 5 Midfield helps occupy the void left when Seiko quietly discontinued the Seiko 5 SNK line not too long ago. The Midfield is similar to those watches in size and simplicity but adds many necessary upgrades. Gone are the days of shaking your Seiko to get it up and running.
First off, the 4R36 mechanical movement can hack and handwind. It comes with 100 meters of water resistance which gives you added confidence from the 50 meters of water resistance that the SNKs gave you. And, the really handsome textured dial on the model with fauxtina is unlike anything you would have seen a few years ago.
What this watch also features is a day-date compilation with a color-matched date wheel, a 24-hour scale that will allow you to reference military time easily, and Seiko's tried and true Lumibrite. The only thing that I would change out is Seiko's Hardlex mineral crystal for a sapphire one, but then you may be looking at a slightly higher price point.
CWC G10 Military Issue Watch
| | |
| --- | --- |
| Case Size: | 38mm x 42.5mm x 10mm |
| Movement: | Swiss Ronda 515 Quartz Movement |
| Battery Life: | 3 Years |
| Crystal | Acrylic Crystal |
| Price Range: | $300 |
CWC first attempted to place a quartz movement in a 70s tonneau case when executing their order to the British Armed Forces, but luckily, that didn't work. I say luckily, because now we get both the 70s tonneau mil-spec watch in the T20, AND what was made while troubleshooting the issue – the G10 Military.
Originally called the "Fatboy" due to making the case deeper to accommodate the movement, the G10 Military Issue is a 1 to 1 copy of the 1980 to 2008 issued British Military watch. In 1991, 22,000 of these watches were supplied to the Royal Navy, so even with its 5 ATM (50 meters) of water resistance, CWC (and the British Military) are confident this watch can stand up to anything.
Bulova A-11 Hack Watch
| | |
| --- | --- |
| Case Size: | 37mm x 47mm x 14mm |
| Movement: | Miyota 82S0 Automatic Movement |
| Power Reserve: | 42 Hours |
| Crystal | Double-Domed Mineral Crystal |
| Price Range: | $240 – $360 |
From the stainless steel case's coin-edge bezel to the leaflet hour and minute hands, the Bulova A-11 hack watch is maybe the most classy looking field watch on this list. This no-frills field watch occupies the very elusive 37mm case diameter size, which again, aids in its classic look.
The Hack Watch will presumably have hacking seconds with its Japanese Automatic Miyota 8250 from the Citizen Group. This movement did not always hack, but sometime around 2019, Miyota started to install a stop-seconds (hacking) mechanism, and thank the Horological Gods they did.
Pulling out the crown will stop the seconds hand dead in its tracks. Set the hands to your desired time based on a reference, and push the crown back in when the seconds on your watch align with the seconds on the reference. That's, ideally, how military personnel would have all been able to arrive wherever they needed to be on time when mechanical watches were the main time-telling device. And now, you can arrive on time too, with the Bulova A-11 Hack Watch.
CWC T20 General Service Watch
| | |
| --- | --- |
| Case Size: | 38mm x 42mm x 11mm |
| Movement: | Swiss Ronda 515 Quartz Movement |
| Battery Life: | 3 Years |
| Crystal | Hesalite Crystal |
| Price Range: | $390 |
The CWC T20 General Service is bold in its minimalism. You can picture exactly how this watch serves a purpose by being incredibly tough all while being in a simple, tasteful, package. This model, with its 70s tonneau case, was meant to be produced in the 1980s as specified in the request to CWC by the British Armed Forces, but quartz movements back then wouldn't fit in that case shape. CWC saved the case design for that original plan and released it in the T20 in 2020.
With a snap-on caseback, the watch achieves 50 meters of water resistance, which may not permit it to be dive worthy, but can withstand most outdoor scenarios. The Super-LumiNova triangle at 12 will keep this watch oriented on your wrist in total darkness, as well as the lumed indices outboard of the Arabic numerals. Its 11mm thickness may make you want to keep it on the supplied CWC NATO strap to give it a little more substance on your wrist, because 11mm is super thin!
All that being said, the story is super cool how this watch was almost supplied to the British Armed Forces but instead was supplied to you and I.
Marathon General Purpose Mechanical (GPM)
| | |
| --- | --- |
| Case Size: | 34mm x 41mm x 11mm |
| Movement: | NH35A Automatic Movement |
| Power Reserve: | 41 Hours |
| Crystal | Sapphire Crystal |
| Price Range: | $420 |
The only watch on this list coming in at 34mm in diameter, the Marathon General Purpose will be a clear choice for the enthusiast with the smaller wrist. Lucky for them, they'll get a watch assembled in La Chaux de Fonds, Switzerland, made with a high-impact fiber shell that is incredibly light. When the lights dim, tritium tubes keep the watch legible, and it doesn't have to be total darkness.
Tritium tubes (used by other watch companies like Ball and Luminox), remain perpetually glowing due to their radioactivity with a half-life of about 12.5 years. You'll want to keep them high and dry since this watch only has 30 meters of water resistance, but the Marathon General Purpose has enough charm to be a consideration for anyone, slim wristed or not.
Hamilton Khaki Field Mechanical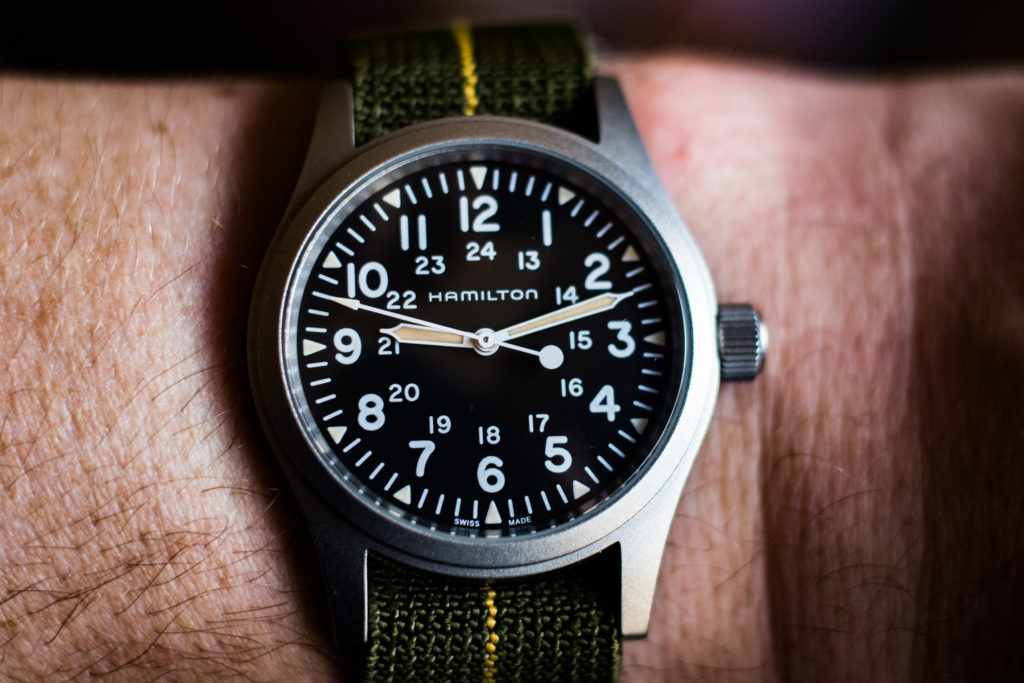 | | |
| --- | --- |
| Case Size: | 38mm x 47mm x 9.5mm |
| Movement: | Hamilton H-50 (ETA 2801) Hand Wind Movment |
| Power Reserve: | 80 Hours |
| Crystal | Sapphire Crystal |
| Price Range: | $450 |
Although Hamilton ended their production of watches in the USA in 1969, they remain very relevant by being a fixture in the world's largest watch manufacturer, the Swatch Group. We would all like to think that in the coming years, the microbands we currently know and love will still be around, but in such a cutthroat industry, you never know. However, I'll put my money on the Swatch group still being around, and also being able to service your watch if you so choose.
The Khaki Field Mechanical gives you something that may not need to be serviced for a long time. This is due to the reliable H-50 movement (ETA 2801), and appropriate 50M of water resistance. Even the bead-blasted case will be more resistant to scratches than a high-polish or brushed case, which makes this watch look like a serious contender for anyone. However, I would have liked to see a milled scissor clasp at this price and not the stamped clasp provided with the option on the bracelet.
Nodus Sector Field Watch
| | |
| --- | --- |
| Case Size: | 38mm x 47mm x 12.5mm |
| Movement: | Seiko NH35 (Date) or NH38 (No-Date) Automatic Movement |
| Power Reserve: | 41 Hours |
| Crystal | Sapphire Crystal |
| Price Range: | $450 |
Designed and assembled in Los Angeles, Nodus has thrived in this current era of microbrands when we have seen many names come and go. They have been able to find success in build quality, original design, and setting a super reasonable price point. For these reasons, the Nodus Sector Field may be the best overall value on this list.
Looking at the technical specifications for this watch, you will keep uncovering nuances that make this watch a steal at $450. The crystal has blue, anti-reflective coating on the underside of the crystal, which is great because this coating applied to the top of the crystal (which brands often do) will get scratches very quickly. Nodus, then, takes the Seiko NH35 movement and regulates it to +/- 10 seconds a day, which is a far cry from what Seiko allows it to leave the factory at. Lastly, the quick-release spring bars on the bracelet and the beautiful gradient dials further separate the Nodus Sector Field from the others on this list.
Dryden Watch Co. Heartlander
| | |
| --- | --- |
| Case Size: | 38mm x 46mm x 11.2mm |
| Movement: | Miyota 9015 (Date) or Miyota 9039 (No-Date) Automatic Movement |
| Power Reserve: | 41 Hours |
| Crystal | Sapphire Crystal |
| Price Range: | $550 |
Dryden must have researched every field watch (or maybe just watch) under the sun before producing the Heartlander in its 8 color variations. The watch borrows enough elements from some of the best watches in the world, so much so, that it becomes something entirely on its own. With many variants having big arabic numerals at 3, 6, and 9, it's hard not to see inspiration drawn from the Rolex Explorer. Add in a President Bracelet, and you might think we are looking at some sort of Rolex homage, but no.
With a built-in quick release system in the end-link and 4 levels of micro-adjust in the clasp, Dryden is clearly a company that has its finger on the pulse of watch enthusiasts. The knurling on the crown and the full-lumed dial variant will make you forget the word "homage" all together because the Dryden Heartlander is something uniquely affordable and awesome.
Vaer A5 Field Automatic
| | |
| --- | --- |
| Case Size: | 40mm x 48mm x 10.4mm |
| Movement: | Miyota 9015 Automatic Movement |
| Power Reserve: | 41 Hours |
| Crystal | Sapphire Crystal |
| Price Range: | $549 |
The thing I like most about the Vaer A5 field is the ability to choose whether you want it to house an automatic movement, a solar, or even a quartz movement. This makes the watch incredibly approachable, as it gives you three different price points for the choices. If every watch did this, you'd bet that there would be less automatic watches out there, as the solar and quartz knock a few hundred dollars off the price tag.
Regardless of the movement, you are getting a watch that is perfectly sized (for most people) with a screw-down crown, 100 meters of water resistance, a sapphire crystal with AR coating, and it is all assembled in the USA. On top of the specifications, another value adding measure that Vaer does is send you an extra strap for free. It will automatically come with a black silicone strap, but you can opt for a nylon khaki strap for $0 more (this would be my choice), or add a steel bracelet or beautiful Horween strap for $100 more.
Seiko Alpinist
| | |
| --- | --- |
| Case Size: | 39.5mm x 46.4mm x 13.2mm |
| Movement: | 6R35 Automatic Movement |
| Power Reserve: | 70 Hours |
| Crystal | Sapphire Crystal |
| Price Range: | $685 – $725 |
The Seiko Alpinist is an Icon in the affordable watch category. For many, it's the logical second step after first getting an entry level Seiko SNK, Timex, or Casio. It has the characteristics of a much more expensive watch with its inner-rotating compass ring – actuated by the crown at 4 – and its cyclops magnifier over the date (hint-hint, Rolex).
The Alpinist is original and really has no alternatives. If you want an Alpinist you must buy an Alpinist. If you'd like one without a cyclops date magnifier, you will be paying a premium on the secondary market due to it being discontinued, however that makes the current Prospex model an even greater value.
Formex Field Automatic
| | |
| --- | --- |
| Case Size: | 41mm x 46.6mm x 10.6mm |
| Movement: | Sellita SW200 Automatic Movement |
| Power Reserve: | 41 Hours |
| Crystal | Sapphire Crystal |
| Price Range: | $995 |
Formex has made a name from delivering more than what's expected in the microbrand world. In fact, if you find yourself fidgeting around with some cool mechanism on one of their watches, it most likely has a patent (like the 7mm tool-free adjustment on their clasp). Then, there is the quality. The Grade 2 titanium case on the Field Automatic is something you might find several price segments above, like Breitling.., but Formex does it for under $1000.
Bells and whistles aside, the design of the case is appropriately masculine, but yet has an organic flow when looking at the mid case. Its sandwich-style dial with full arabics (besides the date window in lieu of the 6) will ensure legibility while the 15 bar (150 meters) of water resistance will let this watch adventure anywhere.
Timor Heritage Field Watch
| | |
| --- | --- |
| Case Size: | 36.5mm x 45.5mm x 11mm |
| Movement: | Sellita SW260/SW216 Automatic Movement |
| Power Reserve: | 42 Hours |
| Crystal | Sapphire Crystal |
| Price Range: | $1040 |
Like the CWC G10 Military Issue, the Timor Heritage Field allows you to buy into an actual military-specified watch with loads of heritage. When the British Military needed a wristwatch that could stand up to the harsh conditions of WWII, they turned to twelve of the best manufacturers to answer the call – of that twelve was Timor.
Now known as the Dirty Dozen watches, Timor was alongside brands like IWC, Omega, and Longines during the assignment – great company. Timor produced one of the more refined Dirty Dozen watches, in my opinion, with its appropriate sized indices, and its railroad track for the minutes and small seconds. Its number "4" is unique amongst the crowd, and the fact that we are still talking about the watch today – kudos to Timor.
Tudor Ranger
| | |
| --- | --- |
| Case Size: | 39mm x 48mm x 11.8mm |
| Movement: | Tudor MT5402 Automatic Movement (COSC) |
| Power Reserve: | 70 Hours |
| Crystal | Sapphire Crystal |
| Price Range: | $2700 – $3000 |
Tudor, since its inception in 1926, was always intended to be a Rolex alternative that would "sell at a more modest price". At least, that's what was said in a 1952 advertisement for the brand in a Rolex Army Times article. The same article had a "Trial of Destruction" which placed a Tudor on a workman operating what looks like a jackhammer – clearly, Tudor is portraying their watch as the more pedestrian product compared to Rolex.
At the release of the new Tudor Ranger in 2022 (and even some years before), the lines between Tudor being more pedestrian and Rolex being more luxurious have been blurred. With the in-house MT5402 movement tuned to COSC standards, and with a bracelet, clasp, and case that are seemingly built near Rolex quality, you have to ask yourself: why pay Rolex money when you can still (for now) pay Tudor money and get 95% there?
Omega Railmaster 8806 Automatic
| | |
| --- | --- |
| Case Size: | 40mm x 47mm x 12.7mm |
| Movement: | Omega 8806 Automatic Movement (METAS) |
| Power Reserve: | 55 Hours |
| Crystal | Sapphire Crystal |
| Price Range: | $5200 |
A direct competitor but with more flair than the Rolex Explorer is the Omega Railmaster. The flair comes with the choices of colorways (denim blue being an absolute stunner), and with some models having fauxtina. With modern lume never aging to the creamy, yellow that used to give vintage watches character, fauxtina lume is necessary to achieve that look now.
The Railmaster is entrenched in Omega DNA with its lyre style lugs, twisting inward towards the bracelet. The clasp is a butterfly clasp which will ensure that it is out of the way, and it is secured with a twin-pusher release as well.
Oversized lands and grooves on the crown will make unscrewing it and operating it possible under any condition. And, the 150 meters of water resistance doesn't do too bad either.
Rolex Explorer
| | |
| --- | --- |
| Case Size: | 36mm x 43mm x 11.6mm |
| Movement: | Rolex Calibre 3230 Automatic Movement |
| Power Reserve: | 70 Hours |
| Crystal | Sapphire Crystal |
| Price Range: | $7250 |
The Rolex Explorer is one of the best designed watches of all time. What may be even more impressive is the marketing behind this watch that constantly put it in the same conversation as summiting Mt. Everest and the tales surrounding Sir Edmund Hillary and Tenzing Norgay. There is no telling whether the Rolex Explorer made it to the peak (pics, or it didn't happen, ya know?). But, either way, that particular feat is believable due to what Rolex consistently produced over the decades – ultimate reliability.
Adorned with huge Arabic numerals at 3, 6, and 9, with a Mercedes hour hand that could never be mistaken for the minutes hand, this watch is supremely legible at a glance. 100 meters of water resistance and a screw-down crown ensures that this watch can go anywhere and do anything (GADA, as you may have heard). Its 904L stainless steel is more corrosion resistant, especially in sea water, than your typical 316L stainless steel.
What's more, is the design of this watch doesn't make it look like some garish tool meant for surviving the elements. You could easily wear it in any scenario – like I said, one of the best designed watches of all time.
Kevin is a serial hobbyist from Chicago who leaned heavily into his watch interest in March of 2020. His small collection favors appearance and comfort, which often leads to his sword-hand Seamaster or DLC Lunar Pilot on wrist. Having other obsessions like drumming to metal music, watching MMA, and perfecting his home gym, Kevin has found the watch hobby to be both relaxing and fun, but also incredibly expansive.